Agriculture and Science vs. Climate Change
Agriculture and Science vs. Climate Change
Main Content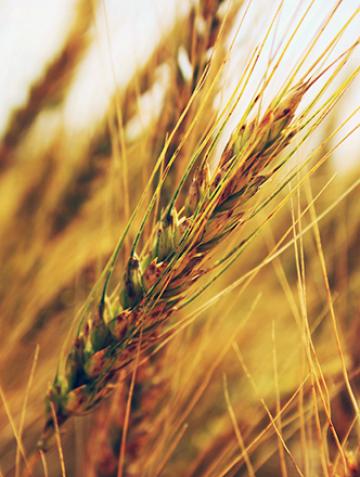 An ancient proverb states that the longest journey begins with a single step. Now, a group with the Agricultural Research Service (ARS) has taken one such step in the worldwide struggle against climate change.
Roger Thilmony, molecular biologist with the ARS Crop Improvement and Genetics Research unit in Albany, CA, and his team have developed a new variety of wheat that has shown modest improvements in the plant's ability to withstand drought.
"Global climate change is a grand challenge for agricultural production," Thilmony said. "Drought is one of the primary stresses that limit crop productivity and cause economic losses. The creation of drought stress-tolerant crops, like wheat, is important to mitigate these problems and enable good agricultural yields, despite environmental challenges."
Thilmony's team used advanced gene editing technology, known as CRISPR, to locate, isolate, and inactivate wheat's six Sal1 genes. Sal1 encodes a protein that acts as a sensor of plant stress. When the gene is inactivated in some plants, they appear to have increased tolerance to drought, he explained.
The result was a moderately successful crop of test plants.
"The process was relatively efficient at producing the desired [results]," he said. "The modified wheat plants stayed green longer than unmodified wheat plants, but they did not produce more seed than the unmodified plants under drought conditions. That could be interpreted as a form of drought tolerance."
Wheat is one of the most widely grown crops in the world and is a critically important food source for its nutritional and health benefits.
CRISPR gene editing technology is often used to speed up the process of selecting for agriculturally beneficial traits, cutting years – even decades – from the time it would take to produce them using traditional animal husbandry and plant breeding programs.
"Gene editing can be applied to a wide array of crops, and it is possible that editing can be used in other plants to make them more drought stress-tolerant," Thilmony said.
While the project did not produce the "giant leap" of a lunar landing, it was a successful step in the right direction toward mitigating the effects of climate change.
"Although we did not produce wheat plants that were more productive under drought stress, the research does demonstrate how gene editing is a powerful tool in testing ideas and determining if specific genes [like Sal1] play a role in the tolerance of crops to environmental stresses," Thilmony said. – by Scott Elliott, ARS Office of Communications.