ARS Scientists Sample the Skies with the Suction Trap Network
ARS Scientists Sample the Skies with the Suction Trap Network
Main Content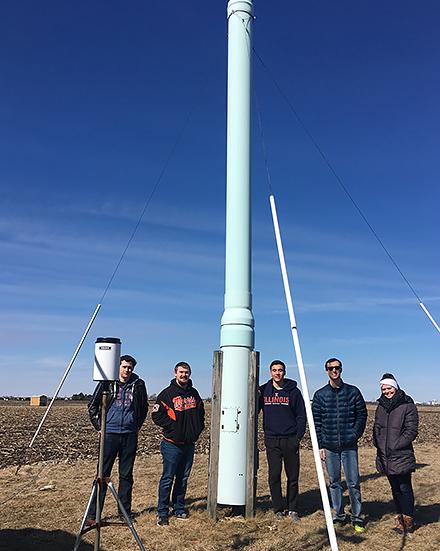 Agricultural Research Service (ARS) scientists are always coming up with innovative ways to tackle problems that really bug farmers.
Plant pathologist Glen Hartman and research associate Doris Lagos-Kutz are no different; they're both part of a rather unconventional collaborative research effort aimed at studying and tracking pest populations that jeopardize American crops.
The key to this endeavor?
For Hartman and Lagos-Kutz, it's a fleet of 20-foot-tall, fan-driven suction traps that can pluck pesky winged insects directly from the air. Peppered across several states, approximately 30 of these "bug vacuums" have whirred away from May to October since 2005.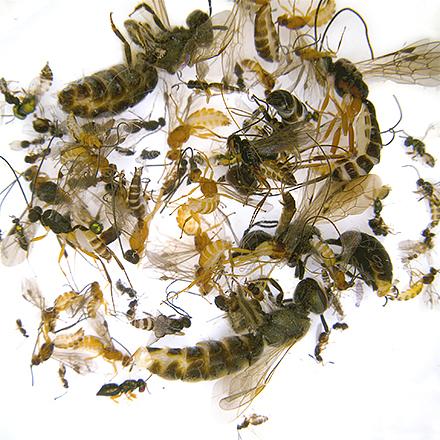 Each trap can draw air in at a rate of of 60 cubic meters per minute, a force capable of ensnaring pests (like aphids and thrips) hovering around crops and fields. After these airborne critters are drawn into a trap, an internal mechanism stirs them into a special specimen-preserving solution inside a plastic jar. The end result, fondly dubbed "aerobiological soup" by the research team, is a slurry of bug bits brimming with valuable intel.
"The 'soup' is a microcosm of the airspace surrounding farms and fields," explained Hartman. "For example, after sorting and processing a sample, we can learn more about the insect species' geographic distribution or migration patterns during summer and fall. The data that we can gather from aerobiological soup helps us gain a better understanding of the ongoing threat."
Originally, the Suction Trap Network was intended to address the introduction and consequent invasion of the soybean aphid (Aphis glycines), a species that feeds on plant sap and transmits viruses to soybeans. Since its discovery in the United States in 2000, the insect pest has become one of the biggest threats to America's $40.9 billion soy crop. Fortunately, with the information gleaned from the suction traps, scientists have been able to learn more about the aphids' travel patterns – including their migration from winter host plants (buckthorn) to summer host plants (soybeans) – which helped researchers develop better and more timely countermeasures against the pest.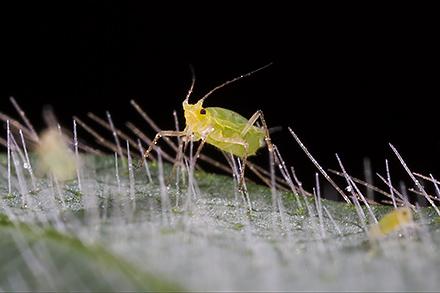 Throughout the years, physical collections of the aerobiological soup have been carefully scrutinized and stored. Both Hartman and Lagos-Kutz believe these samples will serve as a foundation for future research.
"Initially, the network was just focused on the movement of soybean aphids," said Hartman. "However, its monitoring capacity has grown to other aerobiological threats, both agricultural and non-agricultural. Now, we're also looking into the microorganisms that can be found in mosquitos and new viruses that can be carried by soybean thrips. This is especially important because it opens the door to new ways of controlling parasites and pathogens that impact human health."
In the long term, Hartman and his collaborators hope the Suction Trap Network can help scientists better understand how changing ecological landscapes and conditions not only impact insect population dynamics, but also our own roles in our environment. – By Georgia Jiang, ARS Office of Communications.
---
You May Also Like