At ARS, Peanut Research is Alive and Well
At ARS, Peanut Research is Alive and Well
Main Content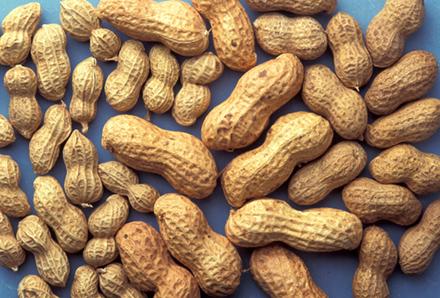 Peanut.
Does the word make you dream of summer days at the ballpark? Or does it raise your fears of an allergic reaction? Whichever camp you're in, if you think of peanut research, the name George Washington Carver usually comes to mind.
Carver, who was born into slavery, had a passion for agriculture and science. That passion motivated him to become the first Black student to graduate from what is now Iowa State University and choose a career in agricultural science. Carver worked to substantially improve the living standards of American farmers in the South, and he studied and analyzed different types of fungi that were causing diseases of crop plants. However, he is best known for his research in developing uses for the peanut and sweetpotato. During his career, Carver developed more than 300 products using peanuts. Ultimately, he became known as "The Peanut Man." Prior to his research, peanuts were mainly viewed as livestock feed.
The Peanut Man passed away in 1943, but his legacy lives on at the Agricultural Research Service (ARS); peanut research is alive and well at several ARS labs, including those in Georgia, Louisiana, Oklahoma, and North Carolina.
"Our research builds on Dr. George Washington Carver's groundbreaking research," said Chris Butts, agricultural engineer with the ARS National Peanut Research Laboratory in Dawson, GA. Researchers there are studying how crop rotations can improve soil health and improve yields for farmers who grow peanuts, corn, soy, and other crops.
In Athens, GA, researchers at the U.S. National Poultry Research Center have developed microwave sensors that can instantaneously determine in-shell peanut moisture content. This technology has been hailed as a game changer by the peanut industry by saving money and ensuring safe storage and optimum processing.
In New Orleans, LA, ARS scientists at the Food Processing and Sensory Quality Unit are making strides in reducing peanut and tree nut allergies by understanding the effects of different food processing mechanisms, like roasting or boiling, on the allergens in these nuts.
In Stillwater, OK, scientists at the ARS Wheat, Peanut, and Other Field Crops Research Unit are looking into the impacts of peanut oil on health benefits. In addition, the team works to increase peanut resistance to fungal diseases, such as peanut smut, an emerging threat to global peanut production.
In Raleigh, NC, scientists are evaluating peanuts and peanut products for their nutritional content. One project examines the effects of peanut skins' very high levels of natural antioxidant compounds on human health, while another study found that adding a small percentage of peanut skins in the diet of egg-producing hens enhances egg yolk color, egg quality, and egg production.
"We are evaluating how peanut maturity affects roasted peanut flavor, how different field treatments of peanut plants affect peanut maturity and nutrition, how roasting time and temperature can affect flavor, and how the processing of peanuts affects human blood chemistry," said Lisa Dean, food technologist at the ARS Food Science and Market Quality and Handling Research Unit.
Peanuts are the seventh most valuable crop in the United States, with a farm value of about $1 billion, and ARS scientists are doing what they can to improve those numbers and increase crop sustainability.
"Scientists are screening wild species of peanut for genetic traits that will reduce reliance on pesticides and increase natural resistance or tolerance to diseases, drought tolerance, and yield," Butts said. "Scientists are also pursuing revolutionary methods to 'vaccinate' peanuts and prevent a mold that produces aflatoxin, a naturally occurring carcinogen. Engineers are designing and testing systems to dry, store, shell, and transport peanuts that will minimize loss due to moisture, insects, and mechanical damage."
"Peanuts were really a localized crop in Dr. Carver's time due to the difficult process of harvesting them and their association mainly with animal feed," Dean said. "We are able to study the peanut from the farm to the consumer." – by Scott Elliott, ARS Office of Communications.
---
You May Also Like