Caribbean Climate Hub Still Helping Hurricane Recovery
Caribbean Climate Hub Still Helping Hurricane Recovery
Main Content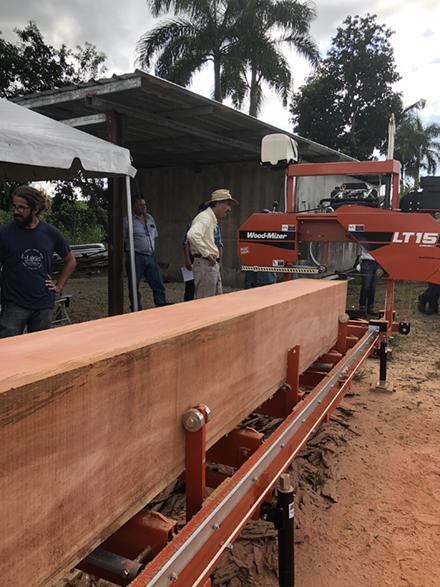 Versatility and adaptability are key ingredients in any successful operation, and the staff at USDA's Caribbean Climate Hub have worked overtime to help farmers and foresters in Puerto Rico and the U.S. Virgin Islands recover from, and prepare for, a myriad of calamities.
In just a matter of days, the Hub's efforts shifted 180 degrees, from severe drought to the one-two punch of Hurricanes Irma and Maria. "In the 3 years prior to the 2017 hurricane season, the Caribbean Climate Hub had been focused on reducing farmers' vulnerability to drought," said climate hub director William Gould.
Then, in September 2017, just 2 weeks apart, category 4 and 5 Hurricanes Irma and María roared through the Caribbean. According to Gould, the devastating effects on power, communications, water availability, and food security revealed both strengths and vulnerabilities in planning and response to extreme weather events. The experience also revealed the valuable role the Climate Hub plays in working across agency boundaries to help residents recover.
USDA Climate Hubs were introduced in February 2014 to develop and deliver science-based climate information, technology, and education to help stakeholders make climate-informed decisions. The 10 regional hubs are hosted by the Agricultural Research Service and USDA Forest Service with collaboration across USDA's Natural Resources Conservation Service, Farm Service Agency, Animal and Plant Health Inspection Service, Risk Management Agency, and others. Scientists in the hubs assess regional climate risks and vulnerabilities including drought, flooding, resilience to extreme events, and threats from pests and disease.
"The hubs have really been able to embody the OneUSDA approach when it comes to climate work at USDA," said Rachel Steele, national climate hub lead. "They are a successful pilot program – demonstrating how USDA works across agencies to address a big challenge."
Although the Caribbean Hub's facilities and staff were also affected by the storms, they responded immediately with a campaign to inform stricken residents of all the USDA programs available to help them recover.
Hub staff also conducted a geospatial analysis and other surveys to understand what farming and forestry practices were most and least vulnerable to hurricanes; initiated a series of workshops related to reforestation efforts – Puerto Rico lost an estimated 30 million trees; and organized efforts to salvage the valuable hardwood trees lost in the storms. Specifically, staff provided training to develop knowledge and technical skills that improved the island's capacity to generate high-value products from the downed trees, such as furniture, musical instruments, and artisanal products.
"These actions capitalize on the Climate Hub's strengths of learning, communicating science, and helping maintain lifelines for people involved in agriculture and forestry before and after disaster," Gould said.
Since the 2017 hurricanes, the Caribbean Climate Hub has been a leader in identifying and sharing USDA and other agricultural advisers' perspectives on the most important impacts, preparations, and short- and long-term recovery strategies. "The Caribbean Hub has convened over three dozen workshops and trainings to both listen and share information with forest managers, agricultural advisors, and over 300 farmers to reduce disaster risk," Gould said.
As Hub staff continue to help residents on their long road to hurricane recovery, they're adapting to changing needs by resuming workshops to reduce vulnerability to drought.
"Step by step, USDA Climate Hubs play a role in reducing vulnerability to farms, forests, and rural sustainability with activities to learn from events and to educate, train, and implement the best ideas in order to keep extreme climate events from becoming disasters," Gould said. — by Scott Elliott, ARS Office of Communications.