ComBase Bioinformatic Tool Reduces Scourge of Foodborne Illness
ComBase Bioinformatic Tool Reduces Scourge of Foodborne Illness
Main Content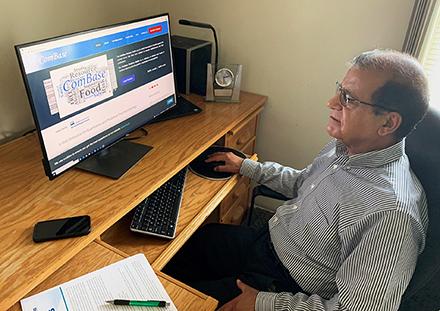 For many, the science of food preservation is not terribly exciting, but each year researchers save thousands of lives and countless belly aches.
Although the United States has one of the world's safest food supplies, the Centers for Disease Control and Prevention says foodborne illness affects about 48 million Americans each year, resulting in 128,000 hospitalizations and 3,000 deaths. Food poisoning is most often caused by eating food that's been contaminated by bacteria or other pathogens.
No one can control how private citizens prepare and store their own food, but America's commercial food industry is closely monitored by several state and federal agencies. These agencies have many tools to accomplish that mission, including something called ComBase.
ComBase is an online quantitative food microbiology database that contains more than 65,000 records collected from research organizations and published scientific articles. The information includes graphical data on how microbes grow, survive, and die under specific conditions, such as temperature and acidity. ComBase also contains food and broth models that predict the growth or inactivation – death – of microorganisms in food.
ComBase was created in 2003 from a collaboration among the Agricultural Research Service (ARS), the United Kingdom's Institute of Food Research, and Australia's University of Tasmania. Since 2020, ComBase has been managed by ARS and hosted by the Eastern Regional Research Center (ERCC), in Wyndmoor, PA.
"Representatives from the regulatory agencies, food companies, allied industry, academic institutions, and consumers in the United States and foreign countries help identify types of information needed to better predict and manage food safety," said Vijay Juneja, ARS microbiologist at ERCC.
ComBase data allows food companies to use predictive microbiology to help them design and implement food safety programs, document regulatory compliance, and test new model interfaces. Predictive microbiology states that microbial behavior, under a specific set of environmental conditions, is reproducible and can be predicted with mathematical equations. "In other words," Juneja said, "it uses mathematics to describe how microorganisms will respond to specific environmental conditions."
For example, a food safety professional can search ComBase and retrieve specific information on the growth of a pathogen found in the food. This information could then be used to determine whether the food is safe to sell or consume; all without the need for an expensive and untimely microbiological test.
"The result," Juneja said, "is safer food, less foodborne illness, better public health, fewer product recalls, less litigation, and greater consumer confidence, health, and well-being.
"ComBase saves the food industry millions of dollars a year in testing and other associated costs, as well as helping to prevent recalls and foodborne illness," Juneja said. — By Scott Elliott, ARS Office of Communications.
---
You May Also Like