Cuphea Oil Chemical Repels Pests
Cuphea Oil Chemical Repels Pests
Main Content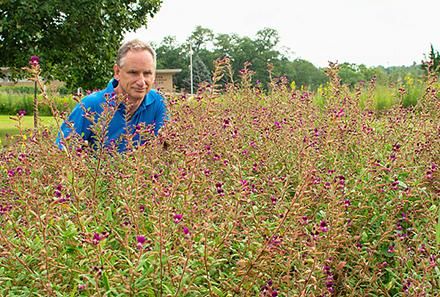 Mosquitoes, ticks, and biting flies can put a real damper on summer fun, whether you're barbecuing in the backyard or spending a day at the beach.
Spraying skin and clothing with insecticide ingredients like DEET can repel these pests and diminish their potential to transmit diseases. Some consumers, though, are wary of using such chemicals. Instead, they might opt for plant-based repellents, like picaridin, a compound in black pepper.
Now, the seeds of a purple-flowered annual known as cuphea could be the source of another insect repellent.
Agricultural Research Service (ARS) scientists are researching ways to grow the plant commercially as a new oilseed crop for farmers in Illinois, Minnesota, Missouri, Wisconsin, and other midwestern states.
Mike Jackson and Steve Cermak, chemists with ARS's National Center for Agricultural Utilization Research in Peoria, Illinois, note that cuphea seed oil contains a chemically tantalizing array of short- and medium-chain carbon fatty acids. Two of these, capric acid and lauric acid, are in high demand for use in surfactants, detergents, lubricants, personal care products, and food applications. The two fatty acids constitute 80 percent of cuphea oil, compared to about 50 percent for imported sources, like coconut oil.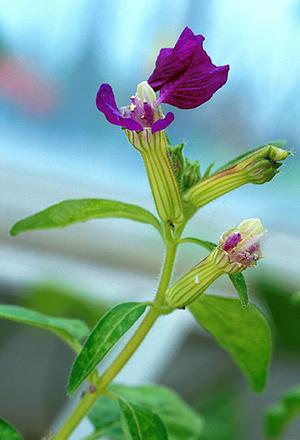 Looking to broaden cuphea's end uses, the chemists and their colleagues adapted a process for converting the oil's fatty acids into 2-undecanone, a repellent compound originally discovered by other researchers in wild tomato plants. In preliminary trials, 2-undecanone worked as well as or better than DEET. The compound is also used in perfumes, imparting a fruity, floral aroma to them.
The ARS researchers patented the conversion process, which uses a reaction known as "ketonization." Knowing of cuphea oil's unique fatty acid composition, "We were curious about doing a ketonization reaction on that oil," says Jackson.
In trials, the process converted much of the oil's capric and lauric acid into 2-undecanone and another member of the ketone family, 2-tridecanone. "We didn't know what these two ketones were used for until we researched the existing literature and learned of their insect repellency," says Jackson.
They also learned that 2-undecanone, the more valuable of the two ketones, is currently synthesized for its various uses, but there is no biobased way of making it. Their approach, however, could offer a biobased production method that converts about 80 percent of cuphea oil's fatty acids into 2-undecanone, with water as a byproduct.
On the field scale, the researchers estimate, this new method could produce 54 pounds of 2-undecanone from 98 pounds of cuphea seed—or 1,500 bottles of insect repellent product if used at a concentration of 7 percent.
The researchers welcome industry collaboration to fully explore the commercial potential of their biobased method of making 2-undecanone, whether for safeguarding our skin from bug bites or even dabbing on a touch of perfume. —By Jan Suszkiw, ARS Office of Communications.
---
You May Also Like