Drink Your Peas, Please!
Main Content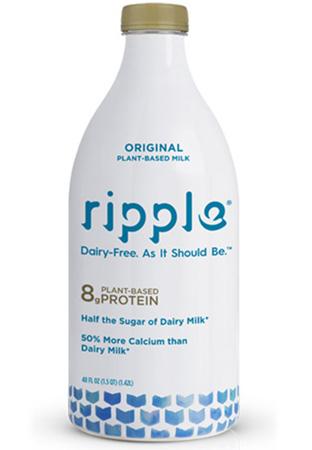 This is the last article in a series focusing on ways ARS research has led to innovative healthful food products.
Tellus continues the story of the work of Agricultural Research Service (ARS) scientist Tara McHugh, director of the Western Regional Research Center in Albany, CA. She and her team in the Healthy Processed Foods Research Unit are experts at solving food-manufacturing problems by using cutting-edge processing technologies, and they have helped numerous small businesses, such as Ripple Foods, turn ideas into products for the consumer.
ARS is helping Ripple Foods optimize its current pea protein drying process to make it more efficient and to further improve its products. The company manufactures its own pea protein by processing yellow split peas into a liquid form and then isolating, purifying, and drying the protein. The pea protein is then made into non-dairy milks, protein shakes, half and half, ice cream, and other products. 
The drying step is necessary because producing this clean-tasting plant protein in a wet state comes with challenges: It's difficult to transport, has a greater risk for microbial spoilage, and has handling issues, McHugh said.
"It's also expensive to ship all over the country, so we are working to optimize the drying process—looking at a way to dehydrate it so it can be rehydrated to save expenses," she said. "The drying process also may even improve the quality and flavor of the final product."
Ripple Foods has a cooperative research and development agreement with ARS, which assists the company in data gathering and analysis on different aspects of its pea beverage. "Ripple's mission is to make plant-based foods delicious," said Aminah Johnston, a process engineer with the company. "We are always looking for ways to make our protein and products better. Our collaboration with ARS has been extremely helpful."
This kind of research not only supports small businesses and U.S. growers, but also reduces waste and increases consumption of healthy foods.—By Sandra Avant, formerly with ARS Office of Communications.
---
You May Also Like