National Bio and Agro-Defense Facility Makes Lemonade Out of the Year 2020
National Bio and Agro-Defense Facility Makes Lemonade Out of the Year 2020
Main Content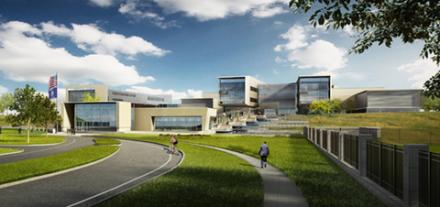 Building the nation's first large-animal research and diagnostic facility with maximum biocontainment capability during a pandemic comes with some challenges. The team standing up the National Bio and Agro-Defense Facility, or NBAF, being built in Manhattan, Kansas, took those challenges in stride and continues working to make the best of them.
The U.S. Department of Homeland Security Science & Technology Directorate, or DHS S&T, is building the state-of-the-art facility to standards that fulfill USDA's mission. Once construction and commissioning activities are complete, USDA will own and operate the facility. Construction progress remained on schedule until about April 2020, when COVID-related disruptions affected labor and material availability. To minimize delays to the overall program, the USDA and the DHS S&T collaborated to realign NBAF's schedule, which was announced in December 2020.
NBAF's new milestones:
Substantial completion of construction is projected for October 2021. This is the point where USDA will have full access to the facility and will be responsible for its operations.
Completion of commissioning is projected for December 2021.
Full operating capability is projected for September 2023.
Transfer of the mission from Plum Island Animal Disease Center to NBAF is projected for December 2023.
Currently, the mission transfer is only projected to be delayed about 4 months from the original schedule — a big accomplishment that is a result of many people working together in the best interest of NBAF. As part of the schedule realignment, USDA and DHS S&T worked together to make key decisions regarding the timing of certain tasks.
As Tim Barr, NBAF program manager for DHS, said, "This is a technically and managerially complex program, and the joint agency collaboration in the best interest of the NBAF mission is remarkable. It is a testament to the abilities of the leadership and staff at USDA and DHS involved in the NBAF program."
For example, the "substantial completion of construction" milestone now includes efforts that would have been executed after USDA took ownership. These efforts address necessary technology upgrades identified since the design was completed in 2012 as well as installation of USDA-funded equipment, which minimize further delays to the overall program. It has also been proposed for USDA to take phased responsibility for some operational functions of the facility starting in April 2021.
Another challenge over the past year has been adjusting to maximum telework and continuing to hire new NBAF team members under these interesting conditions. As of early January, 88 of the 275 operations team employees onboarded — many even interviewed — through teleconferencing technology.
While challenges may remain, DHS S&T continues to project that the construction and commissioning of NBAF under the new revised schedule can be covered within the current $1.25 billion estimated cost.—By Stephanie Jacques, NBAF Office of Communications.