Plant Explorers on Film
Main Content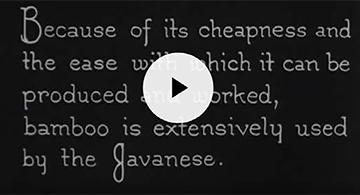 You may not have heard of USDA plant explorers David Fairchild and Palemon Howard Dorsett, but they are among those who have had the greatest impact on what we eat in the United States. Now a silent film of their 1925–26 collecting trip to Ceylon (Sri Lanka), Sumatra, and Java has been found by the National Agricultural Library (NAL).
One hundred years ago, the national cuisine was rather plain—heavy on meat, potatoes, and cheeses, and with a very limited palette of fruits and vegetables. But Fairchild, Dorsett, and other USDA plant explorers trekked across the world to find new crops and ornamental plants for the country.
Fairchild alone is credited with the introduction of more than 200,000 exotic plants and crop varieties, including avocado, flowering cherry trees, hops, horseradish, kale, nectarines, papaya, and pistachios.
Dorsett is best known for collecting germplasm that has helped to build soybeans into a $40 billion-a-year U.S. crop.
In 1925, Fairchild and Dorsett led a USDA expedition to Ceylon, Sumatra, and Western Java, during which they scoured markets, botanical gardens, farms, roadsides, and even beaches to collect seeds and plant specimens. Accompanying the explorers was Dorsett's son Jim, whose job was to document the trip photographically.
Jim Dorsett was equipped with a then state-of-the art Sept camera that could take sharp still photos, fast-action sequence photos, and movies. Fairchild was the first to acknowledge that Jim Dorsett's equipment and techniques were far superior to his own. But he was not the last, as National Geographic hired Jim Dorsett soon after he returned from the expedition.
Recently, NAL's Special Collections staff began an inventory of their 16-mm films. They discovered a poorly labeled film canister. Once they began watching, it didn't take long into the 21:06-minute silent film to realize what they had.
"It is an amazing film," says botanist Karen Williams with the Agricultural Research Service's National Germplasm Resources Laboratory. "It offers rare insights into how people were using plants at that time. Were they using the same plants in different ways than is now common in the region? In addition, they included natural habitats in the film. Botanists may be able to make comparisons between some of the plants that are identifiable in the film and plants known to occur in the same region today—or they may find that some are rare or even extinct today," she adds.
A collaboration between NAL and the Fairchild Tropical Botanic Garden in Coral Gables, Florida, has begun to interpret the botanical and historical context of the film.
"A fascinating movie to watch and a real jewel in ethnobotany, particularly when you consider it was made in the early 20th century," says Fairchild Tropical Botanic Garden adjunct faculty and Florida International University professor Javier Francisco-Ortega. "The film covers so many things: new crops, plants as avenues to teach, ethnography, plants as tools and building materials. There is one sequence where you see them collecting a certain bamboo and then a man building with it."
You can watch a digitized version of the entire film on YouTube.—By Kim Kaplan, ARS Office of Communications.