Turning Discards into a Winning Hand
Turning Discards into a Winning Hand
Main Content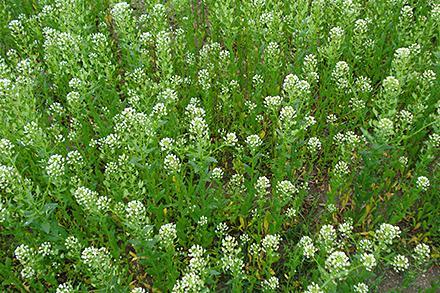 Researchers at the Agricultural Research Service's (ARS) National Center for Agricultural Utilization Research (NCAUR) in Peoria, IL, are taking a new look at biobased products; expanding their utility, overcoming complex technological hurdles, and reducing manufacturing costs to improve the U.S. agricultural economy, the environment, and the safety and health of the American people.
To achieve those goals, NCAUR scientists Robert Dunn and Grigor Bantchev are developing new feedstocks (material used for processing into another product) that they can readily convert to biofuels and biobased products. They are also improving the economics of converting biobased products from vegetable oils and developing new biobased products with multiple functions from waste cooking oils.
Pennycress is one of the biofuel feedstocks that is drawing particular attention. Originally native to Europe and Asia, pennycress is an invasive weed that is poisonous to animals in the United States. However, the plant's seeds have shown promise in the bioproduct arena.
"Pennycress is a crop with enormous potential for the agricultural community," Dunn said. "Oils from genetically modified pennycress crops are playing a role in the project as new and non-edible oil feedstocks for conversion to biofuels and bioproducts."
Dunn explained that a multi-party collaboration of research groups from industry, academia, and government labs are domesticating pennycress as an agricultural commodity crop in the Upper Midwestern United States. The crop could potentially be a valuable winter cover crop that can be planted after the corn harvest (for ethanol and other products) and before the planting of soybean crops (for biodiesel and animal feed) the following spring. An additional cost saving to farmers, pennycress can be planted and harvest using soybean planting and harvesting machinery.
The researchers also found new uses for used cooking oil and vegetable oil. A long-time ingredient of biodiesel, vegetable oil has many uses, including environmental cleanup. Bantchev produced a sulfide-modified vegetable oil that could help eliminate a major health hazard. When mixed with water contaminated with heavy metal, the atoms in the oil bound to the metals and safely removed them from the environment.
Emphasis on developing new feedstocks will continue to increase, Dunn said, and soybean is a prime candidate. Growing one ton of soybeans generates about 1.4 tons of agricultural waste. This soybean "hay" has lower quality as an animal feed than corn or wheat hay, but has great potential for biofuel feedstock. Through pyrolysis (treating with high heat, in the absence of oxygen), soy hay solids can produce bio-oil that may be converted to sustainable aviation fuel (SAF) and biogas products that may help synthesize other hydrocarbons.
There is growing demand from the aviation and marine industries to increase the biomass-sourced content in SAF and fuel for vessels and yachts. Dunn said this demand will create conditions and incentives for future research projects to emphasize advancing the need to lower costs to produce renewable fuels.
"The bioeconomy depends on developing biomass-based alternatives for conventional petroleum-based products," Dunn said. "Such biobased products must be low-cost and exceed or meet the performance requirements of the products being replaced. Such products generally have benefits for the environment, economy, and the health and safety of the public." – by Scott Elliott, ARS Office of Communications
---
Also in our biofuels series: