Growing Together
Main Content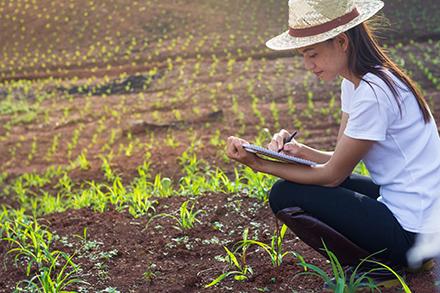 Almost three years ago, the Agricultural Research Service (ARS) ​launched a partnership with the Chicago High School for Agricultural Scie​nces (CHSAS) to bring science out of the lab, and students into the profession. Dubbed the Three Sisters Project, the program unites ARS scientists from across the agency's Midwest Area with students and faculty at CHSAS, a public magnet school on the south side of Chicago that focuses on teaching agricultural sciences to urban students. The program's name refers to an indigenous practice of growing three "sister" crop plants – corn, beans, and squash – in close proximity to each other, allowing each to benefit from the others.
Kervin Evans, a research physical scientist at the ARS National Center for Agricultural Utilization Research in Peoria, IL, has mentored students through the program since it started. For him, the project is personal. "You don't see people who look like me doing a lot of agricultural research," said Evans. "The thing that really, really motivated me was that when I came to ARS 20 years ago, I discovered that there was an ARS facility just 16 miles from the house where I grew up, and I never knew that. We lived in Washington County, MS, and it's a huge farm county. We were 97% African-American at my local high school. No one from that facility had ever been to my school to talk about science, about going into agricultural research. That really ate at my core, and I was like, 'I've got to do something to get the word out.'"
Getting the word out has, for the Three Sisters Project, taken the form of career days, tours, presentations to students, research projects, and consultation on science fair projects. The goal, said Evans, is, "to be like a big sibling, to say 'hey, you can do it, and we're here to help guide you, help you figure out how you can do it.'"
That effort appears to be working, with students, teachers, school administrators, and scientists expressing satisfaction with the project's impact. Now, plans are in place to expand it to additional schools and regions of the country, sowing the seeds of science careers even more widely.
"Just as the plants in the three sisters of American indigenous agriculture support and strengthen one another, this program benefits everyone when our agency, our communities, and our students learn from each other," said USDA Chief Scientist and Under Secretary for Research, Education and Economics Dr. Chavonda Jacobs-Young. "It's up to each of us to set a welcoming table. By bringing more diverse students and future scientists into our organization, we ensure that our research reflects and serves all Americans. Through this collaboration, we all grow together." — Kathryn Markham, ARS Office of Communications
---
Also in our series on STEM: