The Wonder of It All
Main Content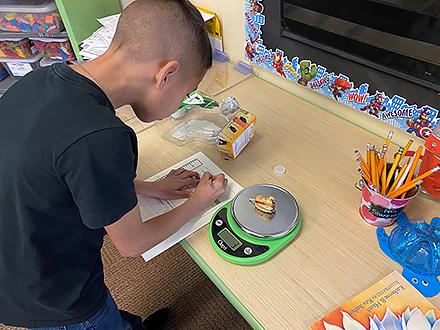 One of the many roles of a teacher is to instill a sense of wonder in students. A non-profit organization in New Mexico, and its instructors, are taking that charge quite literally.
"Asombro means 'wonder' in Spanish, and that's a perfect description of what we do," said Stephanie Bestelmeyer, executive director of The Asombro Institute for Science Education in Las Cruces, NM. "We try to instill a sense of wonder about science and the natural world."
While the institute is an independent organization, it does receive support from both the USDA Southern Plains Climate Hub (SPCH), in El Reno, OK, and the Agricultural Research Service's (ARS) Range Management Research unit (RMRU), in Las Cruces.
"Unit scientists and technical staff participate in lesson development, review, and deliver field-based programs, including concepts based on experiments and new research," said Brandon Bestelmeyer, research leader at RMRU. "For example, Asombro is seeking to develop a program based on the concept of 'agrivoltaics,' (the co-location of solar energy production and agriculture) based on a new project at the location. Many unit science projects have parallel K-12 education programs."
In similar fashion, scientists and staff at the SPCH partner with Asombro on climate literacy programs, Hub director Andres Cibils said.
"We're trying to increase the science literacy with everyone we work with, [including teachers and the public]" Stephanie Bestelmeyer said. "Unfortunately, only about 20% of our 8th-graders are meeting the basic level of literacy in science, and every day our science educators are out there trying to turn that around."
Asombro staff partner with teachers and school district administrators to teach science using examples that are based, literally, in their own back yard.
"All students work better and learn better if they're doing hands-on science," Stephanie Bestelmeyer explained.
In addition, educators visit schools where they can work with individual classes and take students to their outdoor classroom, the Chihuahuan Desert Nature Park. The public is welcome to visit the park and learn about the desert environment as well. The Asombro staff serves more than 22,000 K-12 students and 1,500 adults in New Mexico.
"I hope they can learn a bit about science literacy in our area and how important it is to train the next generation of scientists," Stephanie Bestelmeyer said. "I'd love to see us reaching every student in southern New Mexico so they can all get this hands-on exciting view of what science is." – by Scott Elliott, ARS Office of Communications
---
Also in our series on STEM: