STEM Grows Citizen Scientists
STEM Grows Citizen Scientists
Main Content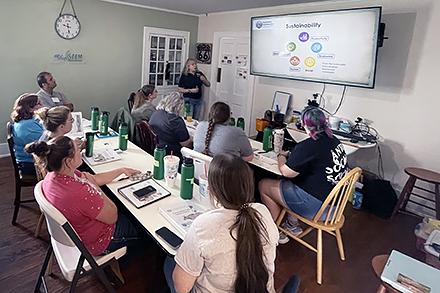 Education used to be about the "Three Rs" – reading, (w)riting, and (a)rithmetic. It still is, but more letters have worked their way in: S, T, E, and M. Since 2001 educators have begun to focus more of their attention on the teaching of STEM – an acronym for science, technology, engineering, and mathematics.
"The concept behind STEM is to teach and learn that single curricular content areas are not found in the real world," said Kristy Ehlers, administrative director of BlueSTEM AgriLearning Center in El Reno, OK. "Integrating all content areas and cross-curricular instructional strategies helps students experience how the world really works. Our instructional models are hands-on, minds-on, inquiry methods where the students solve real-world problems by asking questions. Our goal is to show students that everything in their world and beyond is connected through STEM."
BlueSTEM, named for the Bluestem grass that grows in the area's tallgrass prairie, is located on the campus of ARS's Oklahoma and Central Plains Agricultural Research Center (OCPARC). The center provides logistical support to the program and staff may assist with subject matter expertise.
According to Susan Eisenhour, coordinator with the USDA Southern Plains Climate Hub, an outreach group of OCPARC, one example of such support went to students who were interested in embryology.
"The Climate Hub and BlueSTEM worked together to find someone who could provide not only expertise in this area, but a hands-on experience as well," said Eisenhour. "Now these students [can] write their research papers with real-world experience."
The Southern Plains Climate Hub also helps students add climate change information or a climate change component to their research projects, Eisenhour added. "[We] help them to not only focus on what is happening with our climate right now, but what/how it could change their research in the future."
Since opening its doors in 2015, BlueSTEM has cultivated curiosity and knowledge in nearly 200 young minds. Participants receive extra high school credits in advanced courses as well as up to six college hours at Redlands Community College. Graduates of BlueSTEM have gone on to higher education and careers in science, medicine, engineering, animal science, and more.
While subject areas in STEM programs across the country tend to overlap, many specialize according to their regional areas of expertise. Students at BlueSTEM have researched and reported on such topics as:
Comparing differences in biomass between plants that receive natural and artificial light;
Examining natural decomposition and vermiculture (the production of earthworms and their byproducts);
Identifying pollutants in a closed ecosystem;
Studying the mental health of agriculture producers; and
Surveying water quality by monitoring and testing for nitrate, nitrite, dissolved oxygen, and pH in both rural and urban creeks.
"We teach about data collection, data analysis, graph and chart development and interpretation, technical writing, setting up experiments, and much more," Ehlers said. "Every part of the project is hands-on because the student brainstorms broad topics, narrows the topic to a research question, designs and maintains the project, and makes plans for the termination or extension of the project."
Students aren't the only ones who benefit from STEM programs, Ehlers said. The educators' professional development program helps develop and present research-based curricular strategies to integrate STEM across all content areas in all grade levels.
"Students want to know the relevance of the content and concepts to their personal lives, their interests and activities, and their future," Ehlers said. "When students learn to think critically and creatively, there is no limit to the knowledge they can gain from their environment." – by Scott Elliott, ARS Office of Communications
---
Also in our series on STEM: